Reflective Diagonal Chevron Decals (sheets of 10)
On this page we offer our Reflexite V98 retro reflective pre-cut diagonals or parallelograms. Sold in sheets of 10 decals. Available in red, fluorescent lime yellow, fluorescent orange, blue and white. These are amazingly versatile shapes that can be used to create chevron panels, and left slant or right slant barricade tape. Because the shapes are as wide as they are tall they can be turned 45 degrees which makes them slant the other way. You can see the pictures below to see how this works. These little decals make it easy to create very bright, high quality chevrons or stripes on almost any surface.

We use Reflexite V98 Prismatic Daybright material which is the industry standard for prismatic reflective sheeting. Reflexite invented prismatic sheeting in the 60's and continues to be the industry leader.
To install our reflective diagonals you simply peel and stick to a clean, dry surface. They are repositionable and conformable.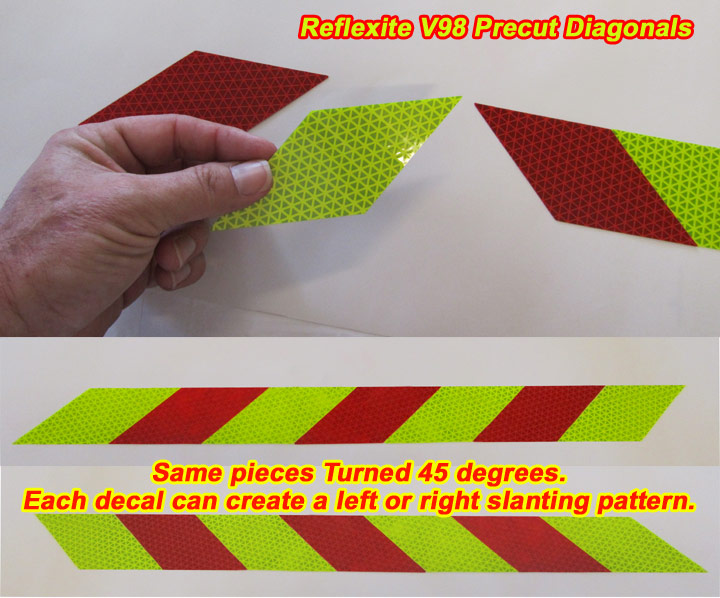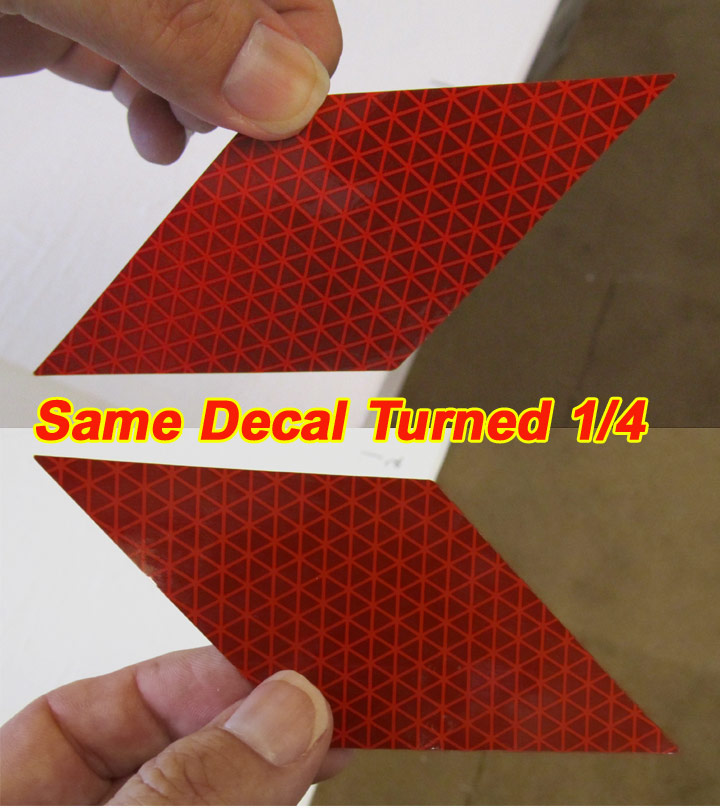 The picture below is intended to show the colors that the diagonals are available in.
There is a $8 flat shipping fee per order. You can make your color and quanitity selection by using the drop down menus below. Available in red, fluorescent lime yellow,fluorescent orange, blue and white.

The prices for our diagonal parallelograms are as follows. (the size represents the height of the decal) Note - if you purchase our 6" diagonals in lime and red you may also want to purchase our starter triangle. This will make it easier for you to create 6" tall chevrons on bumpers or tailgates.
2" Diagonals - $15 for 10 decals
3" Diagonals - $20 for 10 decals
4" Diagonals - $35 for 10 decals.
5" Diagonals - $45 for 10 decals.
6" Diagonals - $55 for 10 decals. (use with our starter triangle to create a 6" tall chevron)